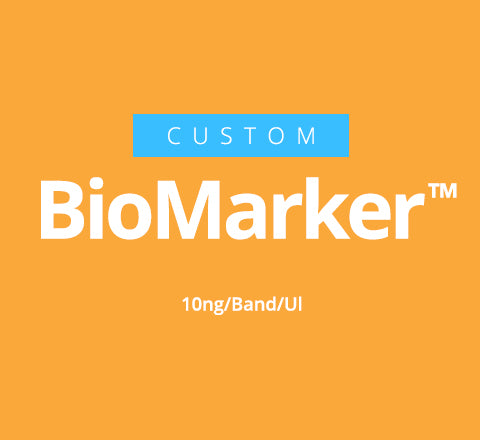 Custom BioMarker™ (10ng-band-ul)
BioVentures offers both custom MapMarker® and BioMarker™ products in order to provide custom solutions to all of our customers.
Configure your custom markers from the options below. Once you have configured your marker, you may add it to your cart. 
Note:  BioMarker is available in two concentrations 10ng/band/ul and 100ng/band/ul.
At 10ng/band/ul the cost is $12/band with a minimum order cost of $50. This includes the requested number of bands at 10ng/band/ul in 250ul total volume which amounts to 50 loadings.
If you require a different concentration or volume please call 1-800-235-8938 or email support@bioventures.com.
Size Standards Instructions: Enter the number of base pairs for each size standard below. Please note the increment guides.
30-1000bp in 5bp increments
1000-3000bp in 25bp increments
3000-5000bp in 1000bp increments ONLY
7000bp and 10000bp standards also available
NOTE: $200 set up fee for selecting size standards between the increments